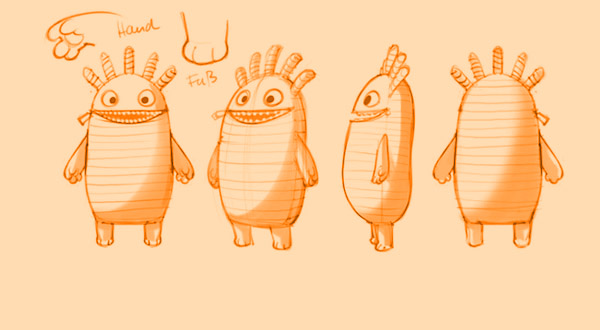 During a restless night in 2008, being affected by the financial crisis and its impact on the media industry, the passionate animation producer and director Gerhard Hahn suddenly had an inspiration: Wouldn't it be great to have a little companion to help you deal with all your worries? Thus, the WORRY EATERS came to life – cute, funny soft toys with an enormous appetite for major problems and minor worries. Their big zipper mouths gobble up everything that causes head- and bellyaches! That very same night Hahn woke up one of his artists and his idea visually began to take on shape…
Gerhard Hahn, who boasts an unrivaled track record with Asterix in America, Werner Beinhart, Renaade, Lola Rabbit, School for Vampires, Benjamin Blümchen, Bibi Blocksberg and Mia and me, to only name a few, knew right from the start that the WORRY EATERS were something special.
Together with the artist Sascha Wüstefeld, Hahn designed these funny creatures in record time and the designer Anke Loose sewed the first Worry Eater prototypes – Saggo, Ernst and Rumpel – on her old Singer sewing machine. A small toy shop in Berlin's Prenzlauer Berg put them on display in the store window – and they were out of stock the following day. In order to satisfy the increasing demand for these captivating soft toys , the newly founded company Helle Freude GmbH took on the production and distribution. The company also published the first delightfully illustrated  Worry Eaters picture book "Keine Angst, Lilly" (ENG: "Don't be afraid, Lilly"; text: Gerd Hahn, illustrations: Sascha Wüstefeld).
Today, licensees all over the world satisfy the still increasing demand for these adorable soft toys, accompanied by a wide range of cute merchandising products.